AsiaCharm: an overview of this Asian online dating website
Do you want to meet a beautiful girl from Asia, but don't know where to start? Nowadays, it isn't a problem to start dating women who are far away from you. Dating sites are easy to use and convenient to find many single Asian girls. But which site is better to use? It is hard to find the answer to this question on your own.
There are a lot of different dating platforms on the Internet that look similar at the first glance. Here we will talk about the AsiaCharm dating platform. Read the review to understand what special features this site offers to users and how it matches your wants.
Best Asian Dating Sites to Meet Asian Singles
General Information about AsiaCharm
AsiaCharm is one of the new websites and was created a few years ago. The main purpose of this dating site is to give people from different countries the opportunity to communicate with Asian singles online. Creators assure that their platform will help European, American, and other countries' citizens meet Asian girls without spending a huge amount of money and time on the trip to Asia.
Although this site is a new one, a huge amount of people have already experienced AsiaCharm online dating. We want to test it by ourselves and find out how useful this site is for Asian singles finders.
| | |
| --- | --- |
| Dominate age of women | 30+ |
| Profiles number | 100,000+ |
| Member number | 100,000+ |
| What countries covers | Japan, China, Korea, etc. |
| Pricing starts | $9.99 |
| Main features | Messaging, real-time chat |
| Free version | Available |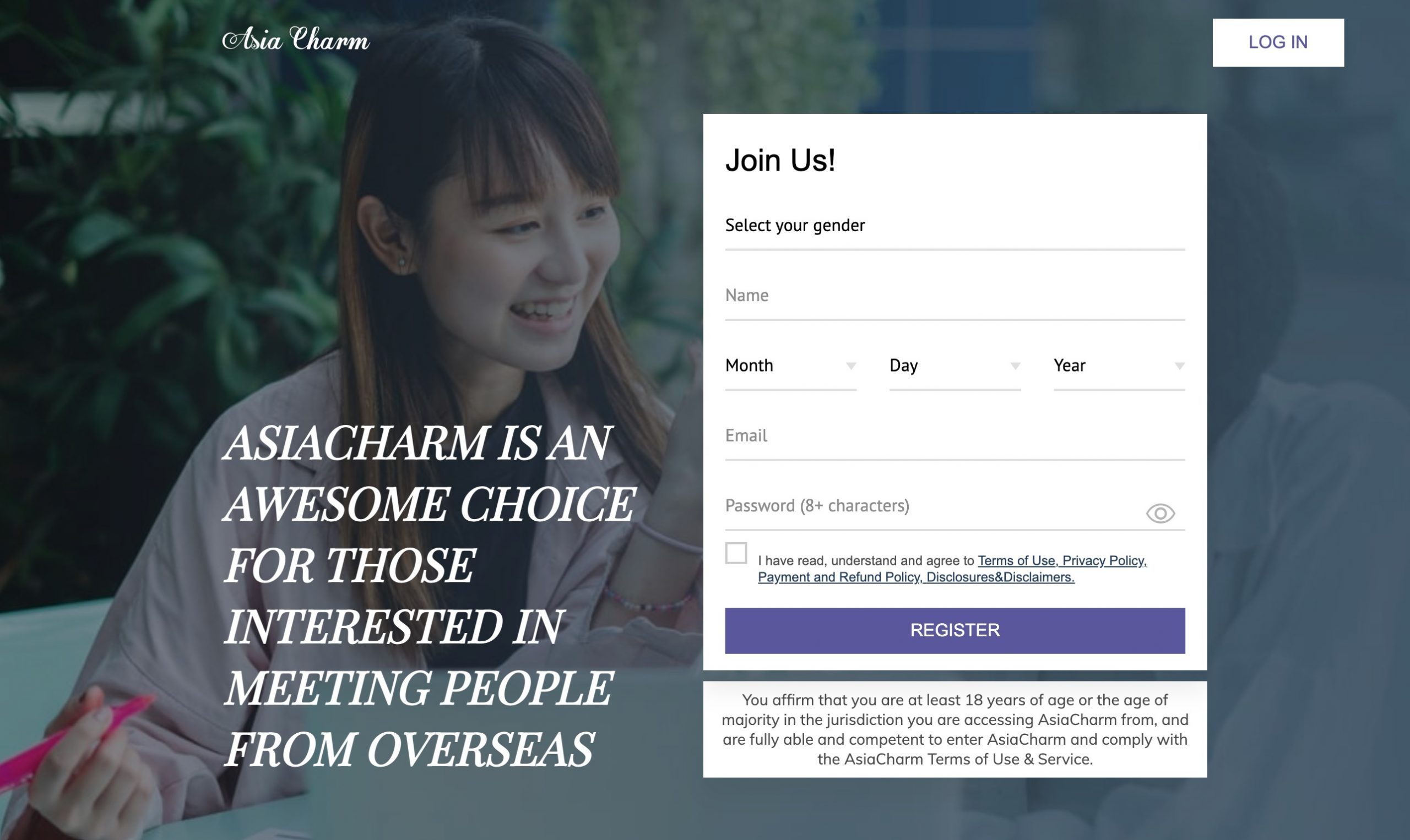 Pros & Cons
Advantages
Customize searching
Great security measures
Effective work of support team
User-friendly interface
Disadvantages
Old-fashioned design
Prices higher than average
App available for Android users only
How to Use AsiaCharm
The first thing that you will do on every dating site is to create an account and explore the main available features. It is usually not hard, but we want to share with you our experience and describe the process. AsiaCharm.com pleasantly surprised us with a quick and easy registration and use process.
Registration Process
The first step to start using the AsiaCharm site is registration. The process is similar to other online dating sites. You need to enter your email, name, gender, date of birth and create a password. We also recommend reading the Term of Use and the company's policy before agreeing to collect your data. We will provide short information about this site's policy and rules later in this review. The last thing here is confirming your email. Now, even if you forget your AsiaCharm login or password, you can easily restore it via email.
After finishing the AsiaCharm sign up process, you will be offered to answer some questions about your preferences. It takes a few minutes but let the system personalize recommendations for you. You can also skip this step and move to the completion of your profile.
Here you have the opportunity to make your profile more detailed. On the service, you can add your photos, age, weight, height, education, the presence of children, interests, religion, and a lot of other additional information. It's not required to enter all this information, you can skip parts you don't want to be publicly available.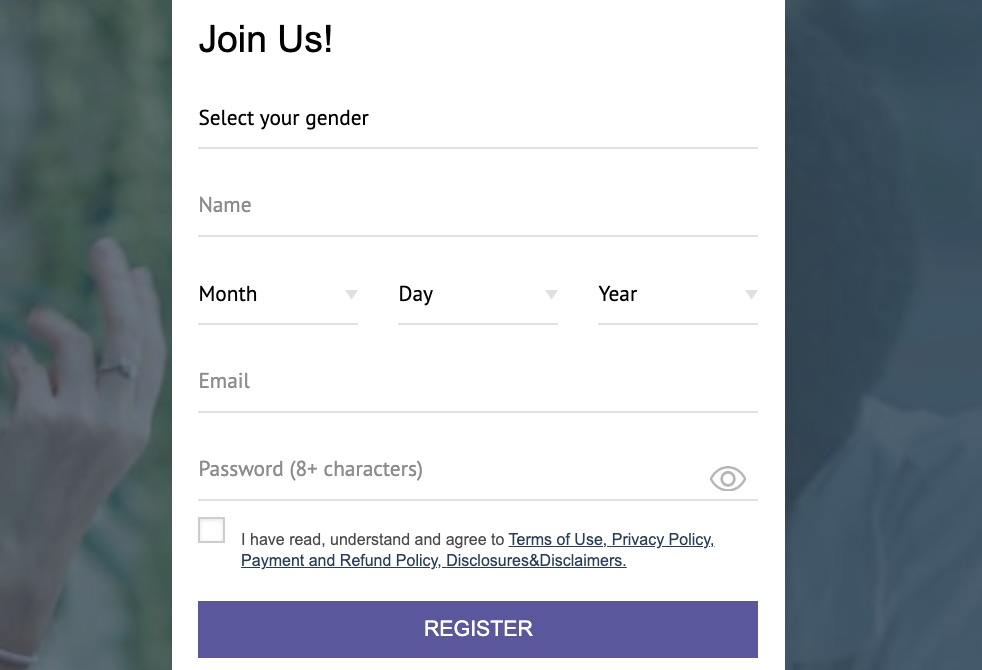 Interface and Features
We find the interface of this website very simple to use. After registration, you will also see a short guide that represents the main features of the site. It's very helpful for new members to quickly understand how to use search filters and communication tools. Despite the user-friendly interface, the design of the website is quite old. We would like to see something more modern and elegant. Luckily, it doesn't affect the effectiveness of this dating site's work.
The menu bar contains only the most needed buttons like Search, Mail, Messages, Credits, and Faces. All these links redirect you to some of the main tools for communication. Let's review them in more detail.
Search. It is the main page of the AsiaCharm website. After taking the questionnaire at the start, the searching algorithm will show you profiles that match your preferences the most. Every profile consists of a photo, location, name, age, and short personal information.
Faces. It is another way to search for a partner. Here you will see the cards with members' profile information, which appear one by one. To start a chat or skip a profile, you need to click on the 'like' or 'skip' button.
Messages. In this section, you can see all your chats with other users. In chats, you can send messages with up to 300 characters, stickers, and winks.
Mails. Here you can send large messages called letters. Write up to 3500 characters, add photos and send to the AsiaCharm women you like the most. We think it is a good tool to express your feelings in one letter!
Credits. The last button redirects you to the payment page. Here you can choose the number of credits you want to buy and make payment. Credits are a virtual currency on AsiaCharm for buying different communication features. We will tell more about payment and pricing later in our review.

AsiaCharm Mobile Version & App
One more advantage of the AsiaCharm com platform is the availability of searching for online ladies from different devices. You can use your phone instead of your computer. Dating Asian women become much more comfortable in this way because you can do it from anywhere and anytime.
The AsiaCharm app is also amazing and works perfectly. But currently, only Android users can download this app to their smartphones. It is one of the main disadvantages of this service. We hope its creators will launch an AsiaCharm dating app for IOS users soon.
How to Use Credits?
You don't need to pay a monthly membership fee to use AsiaCharm. The registration and searching are free for all users. The payment is required only for communication tools, like chats, video chats, gifts, etc. But how much does communication on AsiaCharm cost?
The dating website uses 'credits' for any payment for services. You can buy credits with your credit or debit card.
For the new members, the platform provides free 20 credits. On AsiaCharm you can get different packages starting from 20 credits for $2.99 and more. The more credits you buy, the less money you should spend. It is an attractive policy because you can choose how much to buy based on your needs.
Policies and Rules
The website has a responsible approach to users' comfort and safety. AsiaCharm wants to make a communication process free from offensive behavior, harassment, and illegal content. For this purpose, the dating website has policies and rules that can guarantee you a pleasant experience in dating Asian women. Below you can find the most essential information about the AsiaCharm dating site's rules.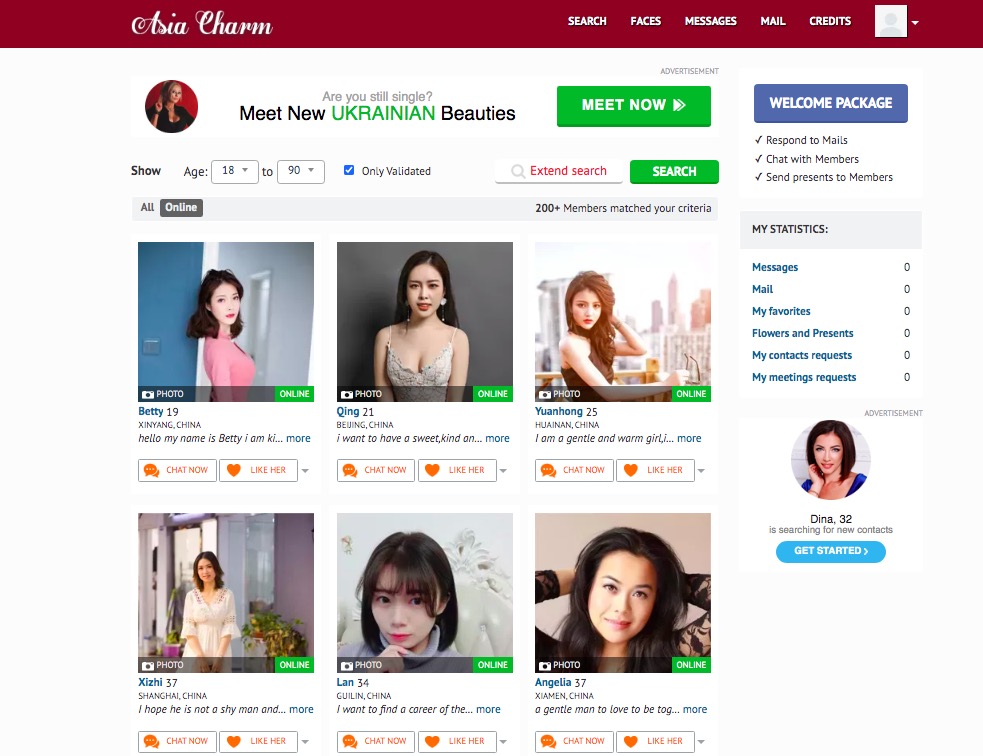 Security and Safety
The first thing that most users usually worry about is the safety of personal information. During AsiaCharm review, we carefully explore Terms of Use and Privacy Policy to understand what personal data will be collected after account creation. The website mostly uses your personal information to provide services and support, process your payments, and send you advertisements. Information like your email or password will never be publicly available on the AsiaCharm dating website. Other platform users can see everything that you add to your Profile, like name, age, interest, or personal characteristics. The service doesn't recommend adding your addresses, phone numbers, or credit card information to your Profile if you don't want anyone to see it.
The most common problem on the Internet is scammers. AsiaCharm provides the Anti-Scam policy for its users. It helps better understand how scammers usually act and how you can protect yourself from a scam. If you meet someone who acts suspiciously, do not reply, especially with your personal information, and ask the support team for help.
Payment Security
You can pay for credits in two ways – by PayPal and by credit or debit card. All payments are charged in US dollars, so your bank can take a commission or extra fees for converting your local currency. For payment security, AsiaCharm may block suspicious users temporarily or permanently. The main reasons for applying block are:
Using credit or debit cards of a third person without his or her knowledge by a website user
Suspect in a scam action, like using many different credit cards for payment
In the first case, the user will be blocked temporarily, and all spending will be refunded to the owner of the credit or debit card. The user can get access to the account again by following the restoring access instruction.
In the second case, the user will be blocked permanently without any possibility to restore access to his/her account.
Refund Process
Most of the fees on the website can't be refunded. But you still can get a refund for some of the unspent and spent credits. Here is a list of cases in which your transactions may be returned to you:
Mistake purchase from your credit or debit card
You have been scammed by other users
Canceling the flower and gifts order within 24 hours after ordering
Declined contact and meeting requests without any reason
You can send your refund request to the customer support email address within 120 days after paying with a credit or debit card and within 180 days in case you paid via PayPal. The company asks to add evidence to your request. It will help the support team process your case faster. Every request is reviewed for at least two days, and then the customer support professionals will inform you about the resolution.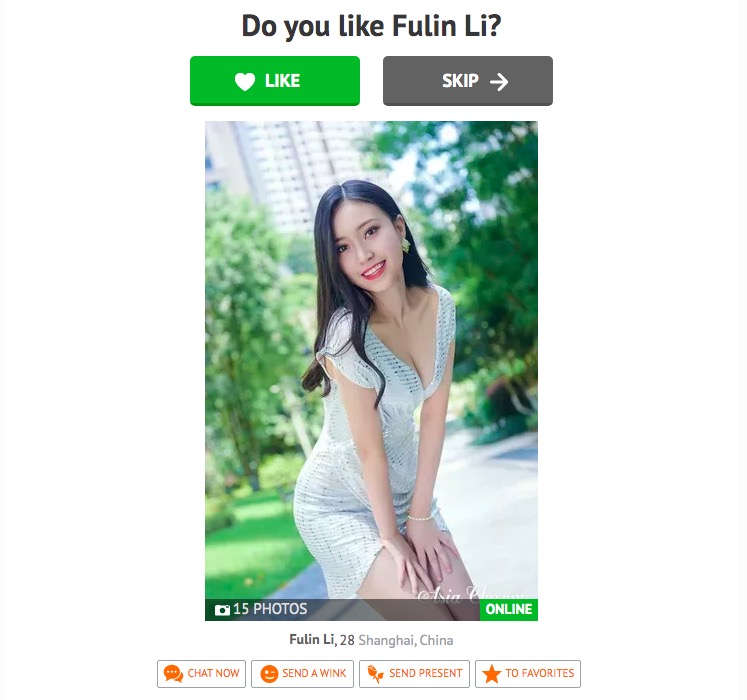 Guide: How to Cancel a Subscription
When you aren't interested in using this platform or simply don't like it, you can easily unsubscribe from this service. Follow the next quick steps to cancel your subscription:
Choose the 'unsubscribe' link on the lower section of the website
Enter your email
Confirm the operation by clicking the 'unsubscribe' button
You can also delete your account in the Account settings section or by sending the request to the support team.
Support on AsiaCharm Dating Site
Sometimes you can meet people who don't follow the rules of communication or just have problems with some features. In this case, AsiaCharm agency provides their help to solve any problem you meet on the website.
The AsiaCharm team of professionals is always ready to assist you via email or live chat. The last-mentioned way is a big plus because it allows processing requests much more quickly. The list of problems that support service can solve for you include:
Payment problems and refund requests
Issues in operations of the site
Violation of the rules by other users
Conflict situations between platform members
The standard workflow of requests processing is simple and usually doesn't exceed one week. A lot of other users in their AsiaCharm reviews note the good experience of problem-solving on this site.
On the website, you can also visit the FAQ page, where the most common questions were collected by the AsiaCharm customer service. Here you will find the solution to any common problem with interface or settings. No need to wait for an answer from the support center.
Conclusion
As you can see from this review, the AsiaCharm dating site is a great platform to meet Asian singles. A lot of AsiaCharm members already built strong relationships with the most beautiful girls. Everyone who used this website found AsiaCharm legit and safe.
This online dating service has an easy-in-use interface and multiple features. We find AsiaCharm dating free from useless tools and extra charges. You pay only for communication and don't need to waste money on paid membership. The service still has a few things to be worked out, but we can definitely recommend it to you.
FAQ
AsiaCharm dating site has an intuitive interface and simple design. All that you need to start using the platform is two steps. Firstly, sign up by entering your name, email, and date of birth. After this quick registration, you need to add some information to your profile, like interest, gender, education, occupation, etc. That's it! Now you can search for the partner of your dream.
A lot of AsiaCharm members note that this site has many advantages, like a huge number of singles with various characteristics, great security and safety policy, and also an available refund system. Choosing this website is a good chance to meet real Asian singles and start relationships.
At AsiaCharm.com, you may meet wonderful individuals from all around the world. With such a diverse population, you're bound to discover someone who shares your passions and beliefs. It's quite simple. Create a profile with some basic information and then go through other members' profiles.