JapanCupid Review
While we are saddened by the absence of free features and the slightly antiquated user design on JapanCupid,  this is surely not a cause to dismiss the dating app. We discovered a lot of reasons to be pleased when we delved deeper through our JapanCupid review.
JapanCupid Dating Site: Pros and Cons
JapanCupid is not a perfect site, indeed, but it's all about the correlation of positives with negatives. We've matched an even number for pros and cons, but pay more attention to the contents. You'll find out that the pros outweigh the cons, and we're here to prove it.
| Advantages | Disadvantages |
| --- | --- |
| The structure of the profile is designed to give a comprehensive quality matchmaking process. | Even though there is a "free" option, only paying users can send and receive messages. |
| Because Cupid Media owns the site, you can be assured that it is secure and trustworthy. | The number of people who use niche applications is often lower than the number of people who use popular apps. |
| There are a variety of membership choices available, all of which are fairly priced. | The app is only available to a select group of people (No IOS app). |
| Platinum membership provides you with unrestricted access to a variety of intriguing services. | The interface is pretty basic. |
| There is an app for the matchmaking platform. | There is a lack of a proper verification system. |
| Suspicious accounts may be deactivated. | The split between the gold and platinum memberships. |

Short Info
| | |
| --- | --- |
| Dominate age of women | 26-33 |
| Profiles number | 700,000 |
| Number of daily log-ins | 11,000 |
| How many countries cover | 226 |
Functionality and Features of JapanCupid
JapanCupid's free trial is a tremendous temptation. You can simply look around and see who you want to chat to, but you can't contact anyone from a free version (only if they write to you first).
The services that arrive with the platinum subscription are where JapanCupid shines. We understand that you don't want to waste money on a subscription that isn't worth it, so let's look at some of the greatest features available at this price point.
Progressive Matchmaking
Cupid Media provides several options for assisting in matchmaking. Some services and subscription tiers allow you to see the matches they believe are the greatest fit for you, but those matches may not be individuals who share your hobbies, religious beliefs, or other interests.
Progressive matchmaking allows you to further concentrate on your searches by pre-filtering individual parameters depending on your criteria.
Remarks About the Profile
Have you ever matched with a gorgeous individual, spoke for a few minutes, and then noticed they were acting strangely, so you unmatch? After a few weeks, you go through your matches, look at their profiles, and think to yourself, "Oh, they're cute!" "What was I thinking when I stopped texting them?" Leaving remarks is the way to help you remember to not message possible odd people on the site.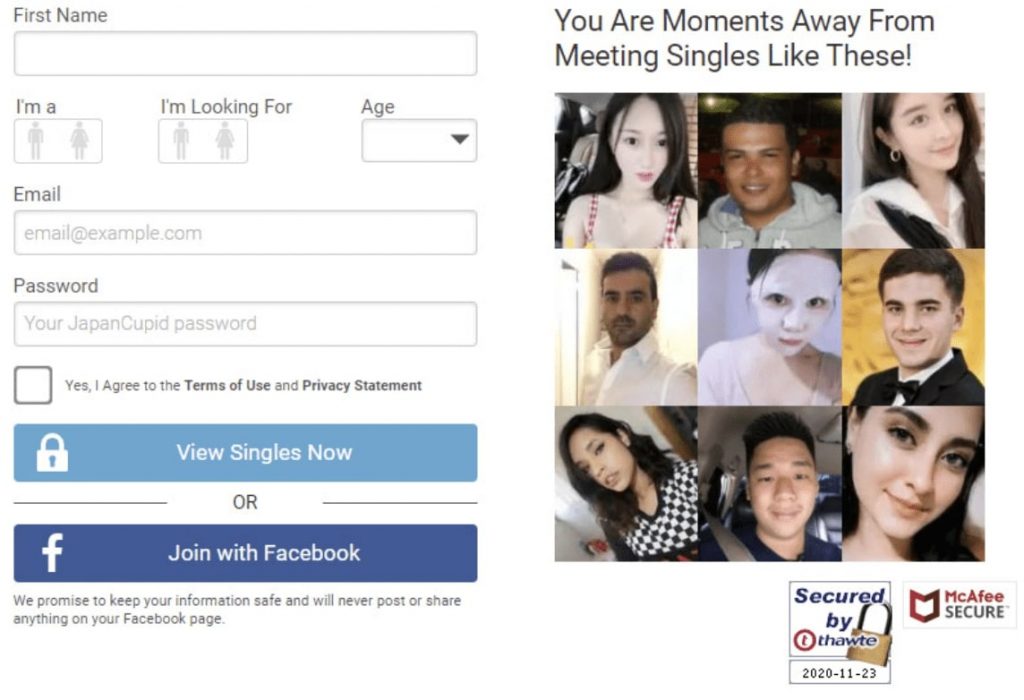 The variety here depends wholly on your imagination and note-taking process. There's an option to leave a note on a profile saying "She is crazy about oranges", "Wants a man with lots of money", "She is persistent about having a baby", or whatever helps you remember what kind of a person is hidden behind that particular account.
Message Translator
Non-Japanese individuals looking for a Japanese mate are welcome on the JapanCupid dating website, which makes the message translation feature quite useful! That implies that no matter how good your Japanese is or how good your match's English is, you still have a chance to connect emotionally. Granted, machine translation is not a perfect tool for solving all of the language barriers, but it's a spark to start a new passionate relationship.
Sign Up Process to JapanCupid
Liking JapanCupid review so far? There is more to it than you could have imagined! JapanCupid sign up is a piece of cake. There are no constraints in regards to the registration. You can sign up via a site or a smartphone application. The whole process is about 5 minutes or so.
The Sing Up Process on JapanCupid Website
The site automatically advises you to sign up through a popping window on the main page. This is where you should click;
Type in your name, the gender you are looking for, your gender, and how old you are.
Write in your working email address;
Choose a great password to protect you from hackers;
Note: There is an option to sign up via Google, Facebook, or Instagram, but we would not suggest it, as it is more dangerous.
The Signup Process on The JapanCupid Application
Open Google Play on your Android smartphone. Type in "JapanCupid" in the search bar. Download the app;
Scan the app for security measures. Open the application to start writing about yourself;
The app will ask you to accept the privacy statement + allow it to use some of your phone's features. Agree to the terms and accept it all;
Type in your name, the gender you are looking for, your gender, and how old you are;
Choose a great password to protect you from hackers.
Note: There is an option to sign up via Google, Facebook, or Instagram, but we would not suggest it, as it is more dangerous. It is safer to keep your social networking accounts away from the websites you use.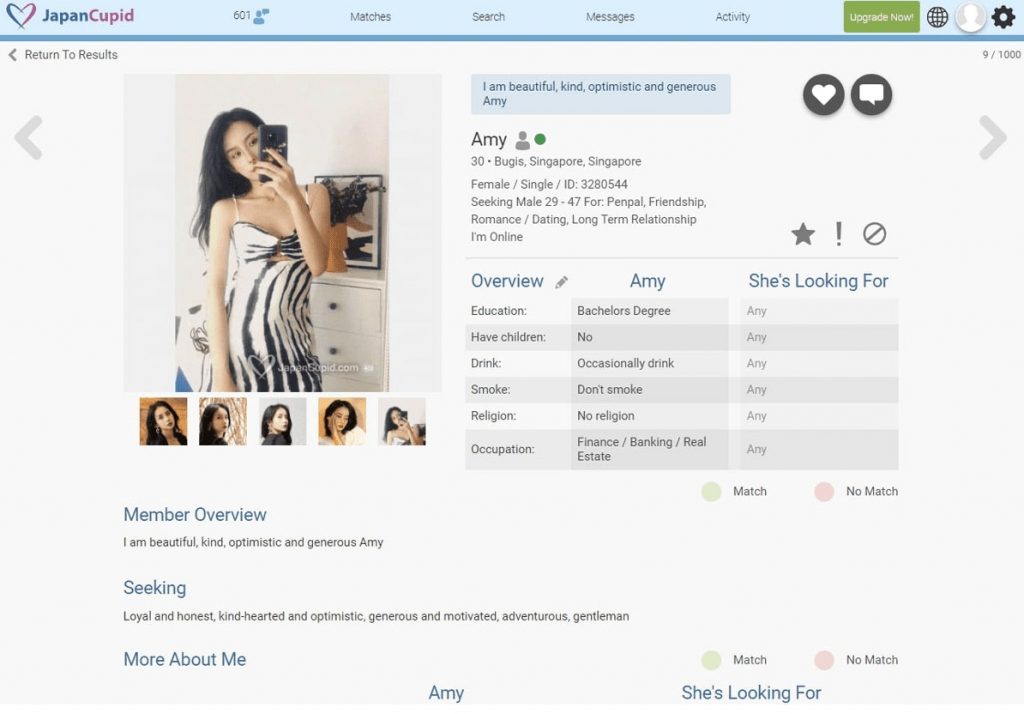 Free vs. Paid Membership
| Free | Paid |
| --- | --- |
| Intuitive Interface | No Ads |
| Possibility to set up your profile | Choosing interlocutor and messaging them |
| The option to reply to the one who wrote you | Gifting |
| Filtering options | Making profile hidden |
Plans and Prices
At reasonable pricing, JapanCupid.com offers two subscription services. Granted, Platinum costs more than Gold membership, but it offers more, as well. Furthermore, all of the gold features are present within platinum membership, so we suggest you consider the second option.
| Duration | Cost / month | Membership |
| --- | --- | --- |
| 1 month | $30 | Gold Membership |
| 3 months | $19 | Gold Membership |
| 12 months | $9 | Gold Membership |
| 1 month | $35 | Platinum Membership |
| 3 months | $23 | Platinum Membership |
| 12 months | $11 | Platinum Membership |
JapanCupid Online Dating Post Registration
You may view other members' profiles just after you've finished your own.
You may only explore a restricted number of profiles until our administrator approves your new profile. You can't contact anybody yet, and other members can't see you. In the page's header, you'll notice your approval status.
You'll be able to utilize all of the features as soon as your profile is approved:
A simple search function with results shown on a map;
Look through as many profiles as you'd like;
Make contact with other members.
Sending a message to a member with whom you have not previously exchanged messages will cost you Credits. These are internal credits that you may earn or purchase. If the other member sends the initial message, you can respond for free, and all subsequent messages are also free.
How to Use Credits
We've introduced Credits to make it easier to pay for the services our community provides. Such Credits are available anytime, and whenever you need them, so you don't have to pay with a card every time you require a service.
Credits can be earned. As a result, you may utilize this social community for free, which is a unique feature not given by most other dating sites. You can, of course, wait for other users to approach you first, in which case you will not have to pay any Credits.
When you wish to start a conversation with another member of this social network, you'll require Credits. The only payment is to start the conversation, and once it's started, all further messages are free in both directions. You don't have to pay any Credits if the other person initiates the conversation.
Credits can be earned or purchased. You may earn Credits in the following ways:
Participate on the member pages.
Add additional photographs or a video clip to your profile
Complete your profile and attach images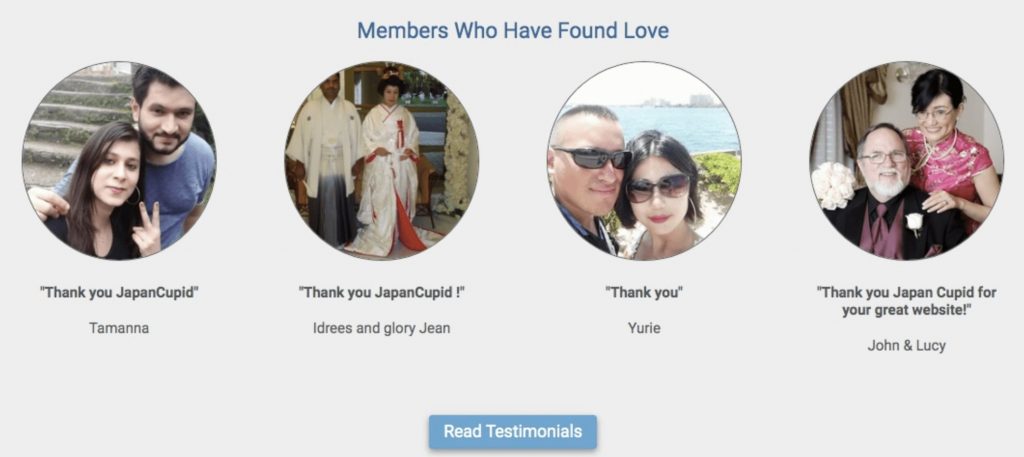 JapanCupid Dating Site Mobile Version
Though the site has an app version for smartphones, you can try navigating the version of a site for mobile phones. The design is called properly so you can set up all you need to get started with the JapanCupid agency. This is the only option for Apple users, as there is no app in AppStore.
JapanCupid App
With its use of modest but quirky details, JapanCupid mobile creates a relaxed environment. Though some of the features aren't useful in terms of finding a wonderful relationship, we can't deny that they're fun to use. Here are some of the features of the JapanCupid online dating app, as well as how to use them!
Staying Hidden
Hidden mode is a feature that almost all online dating sites include. This function allows you to view singles and search for singles while being anonymous to other users of the app. Premium members have access to this feature.
Highlight
Highlighting your messages will move them to the top of your contacts' lists. This increases the likelihood that your replies will be read before those of others. Premium membership is required to access this feature.
Earning Credits
Sometimes JapanCupid dating site will offer you the opportunity to earn credits, which can be spent on some features like stickers, rise-ups, and more. This is usually done by writing a review for the app or completing a survey or general questionnaire.
Gifting
You may give gifts to the singles you're conversing with. When you click "give a gift," you'll be presented with a list of stickers that you may send to that individual. It doesn't offer many advantages, but it is a funny and entertaining way to let your partner know you are mindful of them.
JapanCupid Safety & Security
If you feel someone you're talking to is a scammer, cease communicating with them and report them right once. You should never feel embarrassed or dumb for reporting someone. You are not the one who should be ashamed of yourself and should be stopped.
Inform the dating site – and seek expert advice. JapanCupid member already experiencing bad influence must have reporting procedures in place to handle user complaints regarding a negative experience or suspicious behavior. If there is an issue, dating site operators want and need to hear about it.
The JapanCupid team can take urgent action to remove someone from the site to protect you and others. Online dating sites need to know whether someone is attempting to obtain your personal information, requesting money, or acting in a highly improper manner.
JapanCupid Customer Service
The support provided by JapanCupid com comprises a help center where you may investigate difficulties and find common solutions. We wish there were more alternatives, such as a live chat or toll-free number, but the support center is quite user-friendly.
After selecting from the online or mobile help centers, you will be given a list of frequently asked questions that are extremely easy to explore. The search feature is very well-designed, distinguishing between company-authored content and community conversations. Your JapanCupid login is in safe hands.
Is JapanCupid Worth It, or Should You Choose Other Online Dating Sites?
If you're a single who knows you just want to date Japanese singles and you're having trouble finding them on popular apps, JapanCupid is well worth the investment.
There are several other wonderful dating services out there with superior features that could be a little better fit if you are open to any single that suits your personality or would prefer to narrow down the nationality of your matches using filters.
The bottom line about JapanCupid cost: paying users to get access to a number of fantastic features as well as a large number of high-quality individuals from Japan, the United States, and other countries. If you're seeking Japanese singles, most JapanCupid reviews say it'll be a winner.
Frequently Asked Questions
Is JapanCupid Free?
Though JapanCupid allows you to register and navigate for free, there is a lack of free options. You are not in control of who messages you, and the only way to fix that is to consider a membership.
Is JapanCupid Legit?
JapanCupid is a legit site, and you can see that by the second word in the brand. Yes, it is a part of Cupid Media, which is a quality provider of matching services for lonely hearts.
Does JapanCupid Work in Japan?
It is! The question might sound ridiculous to some, but there are dating sites meant for specific countries that do not work in those countries at all. This can be due to violating some of the regulations imposed by nations. Nevertheless, we can assure you that the site lets you chat with JapanCupid women even when you're in their country.