TrulyChinese Review
China is a huge country with a lot of beautiful and ready for relationship singles. But for most western foreigners, it will be difficult to visit China in order to find a perfect partner. Traveling to China is not cheap and takes a lot of time. A much easier way is to visit a dating platform. We want to help you choose the best website for dating Chinese women. We reviewed TrulyChinese, a new dating website for all people around the world who want to find love in China. Keep with us to find out everything about this online dating site. Thus, keep reading this TrulyChinese review for more information.
Overview of TrulyChinese Dating Site
| | |
| --- | --- |
| Profiles number | Over 100,000 |
| Type of subscription | Free and Premium |
| Price | $28.95 / month |
| Main features | Chats, video chats |
Pros and Cons
Advantages
Multiple profile settings
Advanced searching
High-quality website
Translating service
Disadvantages
Most of the functions are paid
A not fully developed mobile app
History of the TrulyChinese
TrulyChinese started to provide dating services in 2016, and every year becomes more and more popular. As it says on the website, the number of members is over 100,000 users. TrulyChinese agency is a part of a Romantic company that developed a lot of international dating platforms.
The goal of this website is to give Chinese singles the opportunity to date people from all around the world. The founders create a platform with modern technologies that help to customize the searching process to every user's needs and preferences. TrulyChinese dating site attracts a lot of people from Europe and America who want to meet Chinese singles. On the website, you can find many users' feedback who are satisfied with its services.
How to Sign Up and Create a Profile on TrulyChinese
If you want to create an account on TrulyChinese.com you need to fill out the short registration form on the TrulyChinese sign up page. After you enter your gender, email address, and password, the site redirects you to the next step – a short questionnaire about your age, name, and country. It is all that you need to become a TrulyChinese member.
After this, you will see a short slideshow with essential information about the platform's features. Here TrulyChinese recommends completing your profile with some additional information.
In the Profile Settings section, you can find a lot of different options to make your profile more detailed. We were surprised with this various information available to fill in. There are five categories of information. Let's take a closer look at each category:
Basic info. Here you can add personal data, like name, age, region/state, short information about yourself, and who you are looking for. This category is similar to other online dating sites and has nothing specific.
Details about you. In this section, you can describe yourself in more detail. You have the opportunity to choose from multiple characteristics what you want to tell about yourself the most. Fill in the information about your physical traits, like weight, height, body type, hair, and eye color, or tell about your ethnicity, nationality, education, religion, and language ability. Also, you can answer the question about kids, bad habits, and the type of relationship you are looking for. It is a lot of information, isn't it?
Match preferences. Here you can describe the person you are looking for. The criteria are similar to the previous category. What height, age, and body type does your perfect partner have? Does he or she want kids? Answers to this question help other users better understand who you want to meet.
Personality test. On the TrulyChinese dating website, you can take a test to understand your personality trait. After the test, you will get an insight into what your inner world is, what kind of people you can easily get along with. It is an amazing opportunity to get a better look at yourself. We were impressed because we have never seen the same feature on other dating sites.
Dating questions. Here you will find some questionnaires about different topics, for example, dating, lifestyle, and religion. Your answers here will be seen by other users in order to know about your thoughts on different topics. You can also see other members' answers to find the perfect match.

Design & Interface of ​​TrulyChinese
The TrulyChinese website has a nice-looking design and intuitive interface. There are no unnecessary buttons and advertisements. On the landing page, the creators provide a form for registration, information about this service, feedback from users, and links to its social media. It helps understand what TrulyChinese online dating is and what you can get there.
When you finish the registration process you will be redirected to the main page. The menu bar is located on the top of the screen. The first 'Browse' button is the searching page. Here are all profiles recommended for you. You can use different search filters to find people you prefer faster and more effectively.
The next button is Messages. All your chats with other members will be saved here, it allows you to come back to any chat when you want to.
In the next section, called Interests, appear all users who add you to favorites. In this way, you can understand who likes your profile. If this person is a match with your expectations, you can immediately start a conversation in chat. Also, here is a link to your favorites on the menu bar. After searching, you can come back here and send messages to the profiles you like the most.
Communication and Searching Tools
We can't tell that TrulyChinese dating tools are very diverse, but they definitely work great. The main way to communicate with other users is in a chat. With this tool, you can send messages, photos, and stickers. Also, here is a video chat available that gives you almost all the benefits of real-life conversation. These two features are the only ways to communicate on the platform. In comparison with other online dating sites, it looks quite disappointing. But after experiencing these tools in use, we can assure you that it is enough for effective communication.
Despite a little choice of communication tools, TrulyChinese creators paid a lot of attention to searching and matching features. As we told earlier, the profiles of users contain a lot of information, everyone can take the personality test and add matching preferences. All these actions help you to understand which one of the recommended persons fit your preferences the best. When you open someone's profile, you can see full information about your compatibility in percentage terms and comparative tables. Every TrulyChinese member already knew a lot of information before starting a conversation. We are fascinated with this system!
TrulyChinese Mobile App
Despite the website perfectly working in browsers on mobile devices, developers also provide users with a TrulyChinese app. This app is available both for Android and IOS users. The functionality doesn't have many differences from the browser version. It gives users the opportunity to enjoy communication with TrulyChinese women or men in the most comfortable way.
Over 100,000 people have already tried the TrulyChinese dating app and left feedback. Some users note the easy-in-use interface and a lot of interesting people there. But we also find a few negative TrulyChinese reviews. Users sometimes meet problems with log-in in to their accounts. The app doesn't allow them to use the platform or temporarily block accounts. We agree that it's an unpleasant situation, and hope the developers will upgrade the service to remove this problem.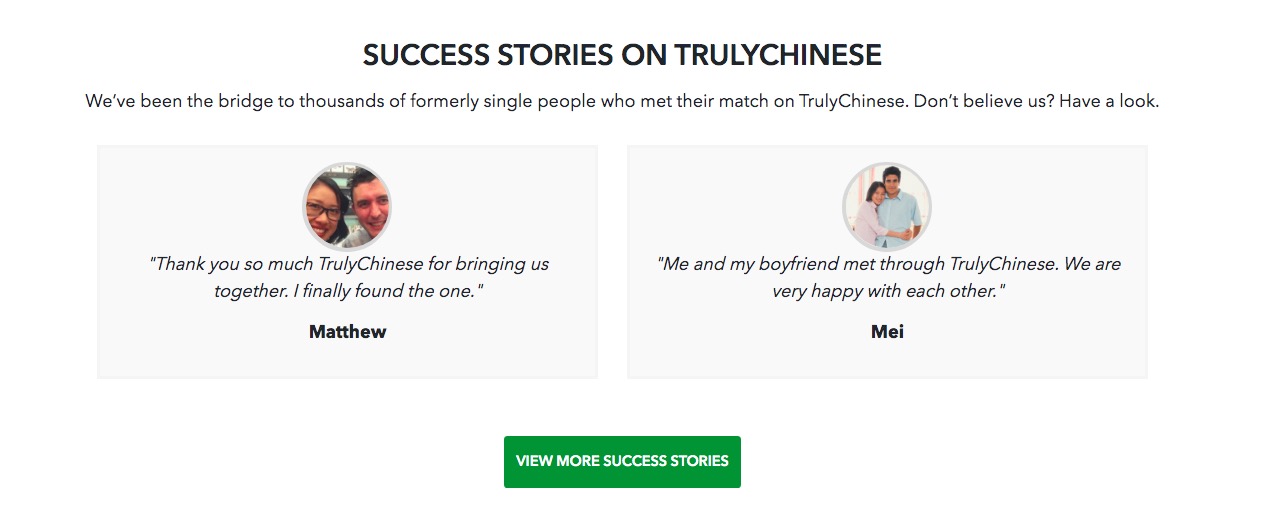 Pricing & Payment Methods
Everyone has the opportunity to create an account and search for partners on the platform without any charges. But is TrulyChinese dating free? At first, it seems like that. But the more time you spend on this website, the better you understand that paid membership gives you much more tools for effective communication.
The first thing that we noted during our review is without upgrading your account to the premium you can send only one message every ten minutes. And it's the most simple example. The list of tools available only to premium members includes a lot of useful features for communication. Here we compare the features for users with free and premium accounts:
| Free | Premium |
| --- | --- |
| Account creation | Video chat |
| Filters for advanced search | Translation of messages and profiles |
| Sending messages (1 per 10 minutes) | Unlimited messages |
| Sending interests | Advanced profile settings |
| Uploading public available photos | Sharing photos from the private album |
As you can see, the premium account gives you much more benefits to a comfortable searching and communication process. To get access to all these tools you need to get a monthly subscription. The subscriptions on TrulyChinese cost $28.95 and will be charged automatically every month. You also have a chance to get a one-time offer 7 days trial version of a premium account for $2.95. You can pay by credit/debit card or with PayPal.
Is TrulyChinese Dating Site Safe?
After reviewing the TrulyChinese Terms of Use, we have mixed feelings about its safety and security measures. The creators assure that all information in profiles, messages, chats are monitored to meet the requirements of the website's Terms and conditions. TrulyChinese also doesn't recommend sharing your private information like phone number, social media, and address. The quality of accounts here is also monitored, and all suspicious users can be blocked or terminated. These measures seem sufficient to guarantee the safety of every user.
But in its Policy it is also said that you are solely responsible for the safety of your communication with other users and provided information. The website responsibly preserves the security of your personal information but doesn't guarantee full safety. We recommend you carefully read the Terms of Use and Private Policy before the TrulyChinese signup procedure to be informed about your own risks and the website's security measures.
How to Unsubscribe from Trulychinese
You can easily cancel both types of subscriptions, free and paid. It will take only one minute and doesn't require any additional action. To remove your account, follow these steps:
If you have a paid subscription, cancel it before removing your account
Confirm the account removal
If you don't want to permanently cancel your membership, you can deactivate your account. After that, your profile will not be visible. You can reactivate your account anytime with TrulyChinese login. To make it, find the Deactivate account button in Account settings and follow the same steps with removing the account.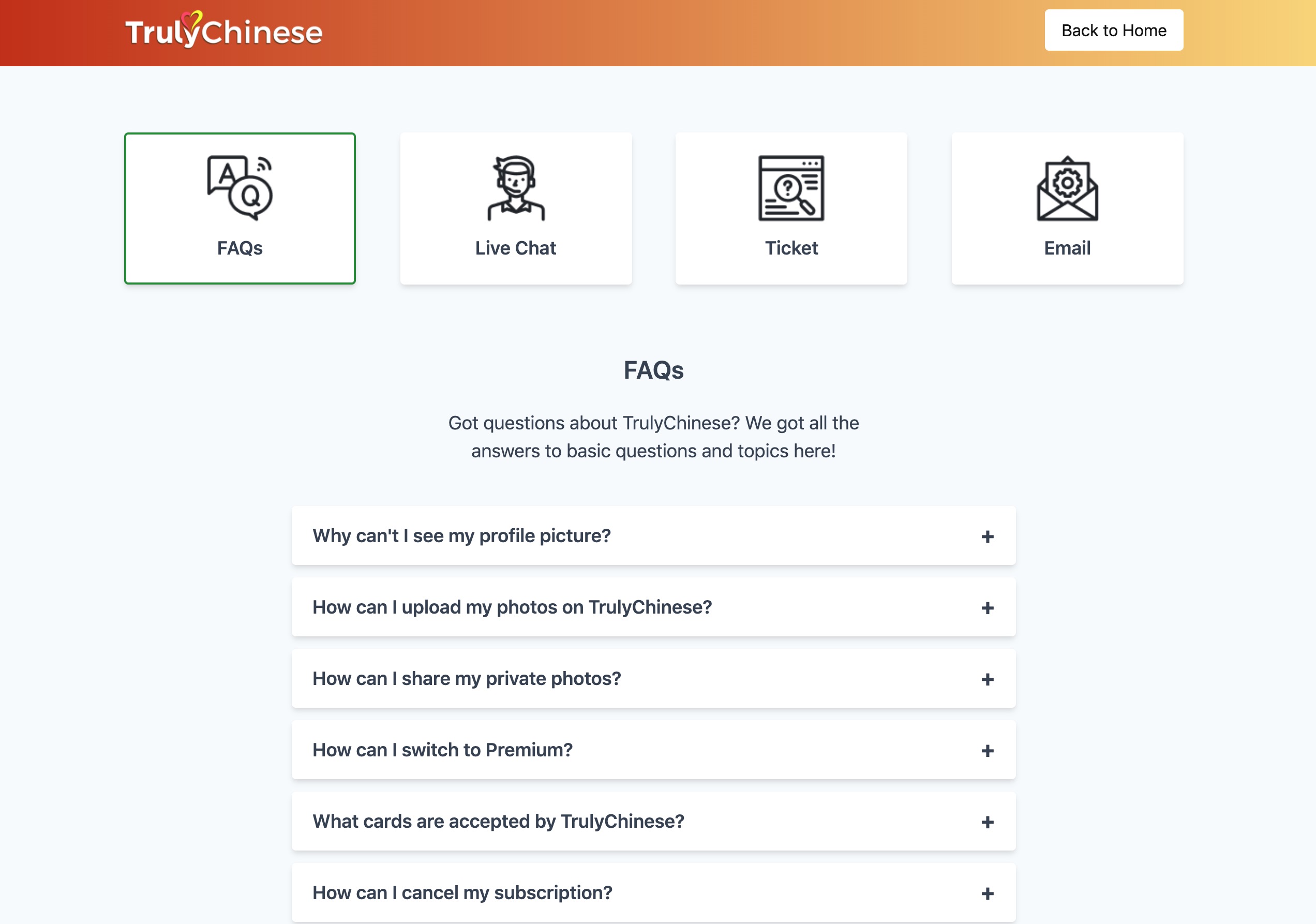 Help & Support
TrulyChinese team of professionals provides you with 24/7 support for any problem on the website. There are many ways to contact customer support via account settings, email, or live chat. On the platform, you also have the opportunity to file a ticket with your problem or question. TrulyChinese customer service will assist you as soon as possible.
If your question is not specific, you can find answers in the FAQ section. All basic topics and users' concerns are collected here in order to provide you with quick help. We think these various support features and a professional team can solve any of your problems with TrulyChinese service.
Conclusion: Is TrulyChinese Any Good?
After making a careful review of the TrulyChinese dating site, we can recommend it to you. The service is new and still has some problems with the mobile app, but we are sure the developers will solve all of them. This online dating website has an attractive design and useful tools for communication and searching. If you are seeking beautiful girls from China, you should try the TrulyChinese com service!
Frequently Asked Questions
Is TrulyChinese Free?
On the TrulyChinese website, you can choose free or paid membership. You can get a lot of benefits even with a free subscription. Searching filters, messages, account settings, and likes are free to use. But paid subscription gives you many benefits like video chats, translation service, top position on the searching page, etc.
Is TrulyChinese Legit?
Yes, TrulyChinese is a legit website. Users here are real people who are looking for serious relationships. The developers have a good reputation. They launched many dating platforms for people around the world and constantly make their services better and better.
Is TrulyChinese Any Good?
This site is ideal for people who have little or no experience with other international dating services. As many evaluations imply, TrulyChinese is also excellent for people who feel like a fish out of water when perusing dating services. Its search engines and matching algorithms learn about your tastes and only show you the finest of what you're looking for.